Jinde Service  --Help the Needy
Oct.02.2023


According to the needs, Jinde has set up a fund-raising programs for orphans and disabled infants:

Home for disabled children

In a home for disabled children in Beijing, their wardrobes and beds have been in use for many years and can no longer be used. In order to enable disabled children to enjoy the dignity of normal children and live in a convenient environment, Jinde has customized the wardrobes and beds for each, and installed bed curtains, so that everyone can have personal space.

Save her only eye

Gu Yuyuan, a 3-year-old girl, was abandoned in March 2016. She has a blastoma in her right eye and lost sight. In order to maintain her left eye, Jinde set up a special fund-raising program for her.
Hearing aids for impaired brothers
Penghui and Xiaopeng have hearing impairment. They should have gone to special education schools, but due to their family poor condition, they could only go to ordinary schools. Because of their hearing aids don't work well, they are often bullied and ridiculed by their classmates. Therefor, Jinde set up a project to support them to get new hearing aids, then they may gain hearing and get out of embarrassment soon.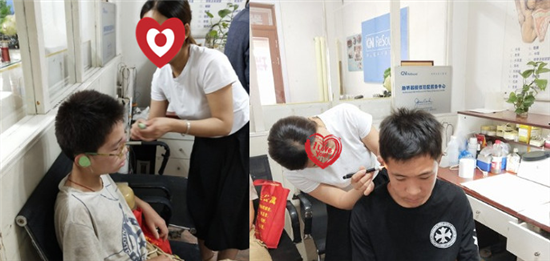 Spring Festival items for the poor
The Spring Festival is the most grand traditional festival for Chinese. It is a folk festival integrating blessing and disaster fighting, celebration, entertainment and food. Buying festival goods, sweeping the dust, pasting couplets and so on are the important elements. However, some disabled or widowed individuals and families could only avoid the atmosphere of the festival, away from the yearly happiness and special fortune. In order to help them, on the Eve of the Spring Festival in 2017, Jinde invited local love groups to deliver festival items to them at least they could have something for this special time. In 2019, more than 1000 received the goods.
Cataract project
Jinde with the China Poverty Alleviation Foundation, Alibaba and Tencent, raised funds to help poor families with cataract surgery.
Cancer project
In cooperation with China Poverty Alleviation Foundation, Tencent, Shandong Branch of Singapore Chamber of Commerce, and other institutions together, Jinde support breast cancer and cancer treatment.