Jinde Service --For the Elderly
Oct.02.2023


Jinde Charities Foundation was established in May 1997. Five years later in 2002, Jinde Charities set up a Home to service the elderly, in order to be "practising charity and witnessing faith". Until now, there are more than 1000 elderly people have been serviced.

The most important is that it also adopted homeless elderly, so that they can be taken care of when they need it, food when they are hungry, clothes when they are naked, and comfort when they are sad.

The homeless are in different situations, some of them with various illnesses, some with mental problems, and some with disabilities such as polio or loss of eyesight. Whatever, once they get to the Home, they will receive meticulous care.

The first homeless adopted by the Home

Wu Xiejun had been wandering in the street for a long time in Shijiazhuang. Around the Lunar New Year 2003, he was discovered by colleagues of Jinde. After verifying his identity and situation, the Home adopted him in time.
Wu Xiejun, A one eyed beggar in the street
Wu Xiejun in the Home
Mr.Wang Zhuqin lived alone in Xihao Village, Yuanshi County, Shijiazhuang. In May 2008, he had cerebrovascular disease, leading to aphasia. Later, the condition deteriorated, even paralysis, incontinence.
Wang Zhuqin lived alone at his own home
On April 5, 2017, the colleagues of Jinde received Wang Zhuqin to the Home, and bathed him, changed his clothes and shaved him also.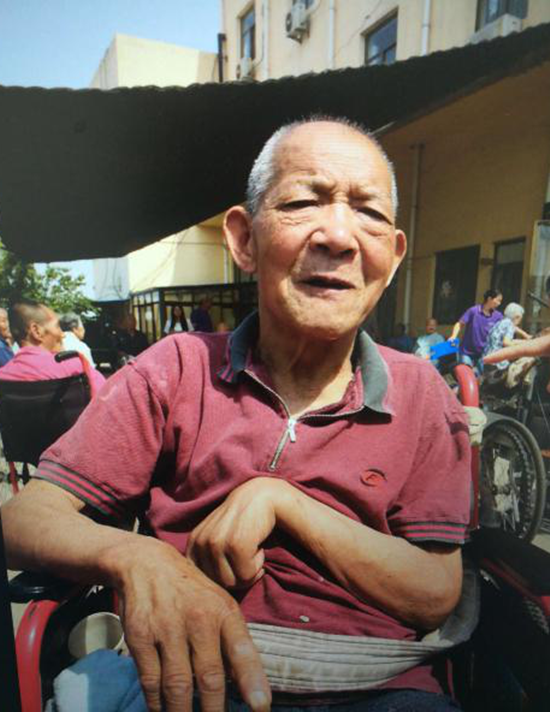 A new looking Wang Zhuqin in the Home