赈灾捐献日致在华外文团体
Join Our Hands with Chinese Faithful and Clergy for Relief Works
Inspired by experiences of the Universal Church, beginning on Palm Sunday 2017, the Church in China launched Her Disaster Relief Day (DRD), calling individuals, parishes, dioceses and communities to donate one Sunday's collection to the relief fund. The past two DRDs had received enormous support from various ecclesial communities and individuals throughout the entire China and have brought in a total of ¥1,909,581.76.
More significantly, in 2018, we also started receiving donations from foreign language Catholic communities. Details are as follows: Shenzhen Korean community, ¥20,000; Shanghai Korean community, ¥20,000; Beijing Korean community, ¥40,000; Shanghai German community, ¥20,000; Beijing Italian community, ¥1,200. Hereby, on behalf of the victims, we would like to take the opportunity to thank you sincerely for your generous donations. May God shower upon you with ever more abundant blessings!
The donated funds collected in 2017 and 2018 have all been distributed among the 20,000 plus victims of various natural disasters, including flood disasters in Hunan, Jilin, Gansu, Yunnan, Shandong, wild fires in Guizhou, earthquake in Hualian, Taiwan, volcano eruption in Guatamala and tsunami caused by earthquake in Indonesia.
April 14 this year, the Passion Sunday will see the third Disaster Relief Day. Correspondingly, Jinde Charities has established the 2019 Disaster Relief Day Project, lasting from Lent 2019 to Lent 2020. This task is entrusted to us by the Bishops' Conference of the Catholic Church in China, aimed at achieving total transparency in terms of its incomes, expenses and detailed executions of this project.
In his Message for Lent 2019, Pope Francis says that almsgiving helps us "escape from the insanity of hoarding everything for ourselves in the illusory belief that we can secure a future that does not belong to us." He also calls us to a genuine conversion: "let us leave behind our selfishness and self-absorption, and turn to Jesus' Pasch. Let us stand beside our brothers and sisters in need, sharing our spiritual and material goods with them." In particular, for 2019, the Pope invites us to show some love and support for the refugees from Iraq and Syria, two countries that have been devastated by wars.
Today, Catholic communities made up by the faithful from overseas have become an important component of the Catholic Church in China. Many Catholics from these communities have already participated in the relief works organized by local Churches. And thus, you are already members of the large Catholic family in China.
Therefore, we cordially invite you and your community to, once again, join hands with Chinese Catholics throughout the country to actively participate in the Disaster Relief Day 2019! It is our request that you donate one Sunday's collection to this collective humanitarian work for the poor and the needy. This will be a significant witness of love from the Catholic Church in China.
Heartfelt thanks for walking together with the Church and the society in China!
Jinde Charities Foundation
April 12, 2019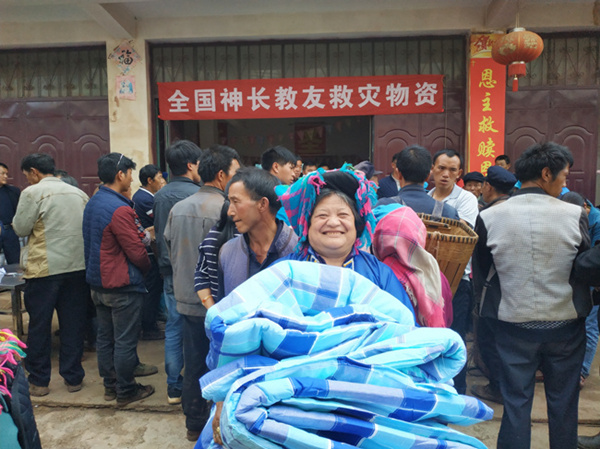 How to donate:
Bank transfer:
Currency: RMB
Title: 河北进德公益基金会
Account number: 131080080018010022131
Full name of the bank: 石家庄交通银行胜利北街支行
Routing Number: 301121000278
让我们携手中国神长教友为赈灾献爱心
参考普世教会的赈灾经验,中国教会从2017年圣枝主日开始,每年将个人及堂区或团体一个主日的捐献用于全国神长教友的赈灾基金。
全国神长教友"赈灾捐献日"活动推出以来,获得了全国各地教区、堂区、个人家庭、在华外文团体的积极回应和大力支持。两个赈灾捐献日共收到1,909,581.76元。
尤其2018年获得了在北京、上海、深圳的外文教友团体的积极参与。其中,深圳韩国神长教友捐献2万元,上海韩国神长教友捐献2万元,北京韩国神长教友捐献4万元,上海德文神长教友捐献5千元,北京意大利文神长教友捐献1200元!在此,我们谨代表受助的灾民们向中外神长教友的慷慨捐献表示衷心地感谢!求天主更丰厚的降福大家!
2017-2018年的赈灾捐献日善款已经全部用于湖南水灾、吉林水灾、甘肃水灾、贵州火灾、台湾花莲地震、云南巧家县水灾、山东水灾等受灾民众,直接受益人数20000余人。
今年4月14日是圣枝主日,将迎来第三个全国神长教友"赈灾捐献日"。从今年四旬期至明年四旬期期间,进德公益受"一会一团"的委托,合作设立了"2019赈灾捐献日项目",公开透明地公示项目收入、支出,项目执行等详情。
"我喜欢仁爱胜过祭献。"(欧6:6)教宗方济各在2019年四旬期文告中写到施舍有助于我们"走出为自己囤积一切的愚昧,以及不切实际的对未来的幻想"。他还在文告中勉励我们,"让我们放弃自私,只看到自己,而要转向耶稣的复活奥迹;让我们亲近处于困境的兄弟姐妹,与他们分享我们的灵性和物质财富"。
今日在华外文团体已经逐渐成为了中国各地地方教会的一支重要力量。如,很多外文团体的神长教友已经参与了地方教会的慈善工作,也包括赈灾和救死扶伤的爱心奉献。大家生活和工作在中国,也是中国地方教会及普世教会的一员。
为此,今年我们谨邀请您、您的团体,再次携手中国全国神长教友,一起积极参与2019中国教会的赈灾捐献日活动,奉献一个主日的爱心,向中国社会传递大公教会的人道主义救死扶伤精神,为基督福音做美好见证!
谢谢大家与中国社会和教会同行!
进德公益基金会
2019年4月12日
捐款方式:
扫描二维码直接捐赠,如需索要票据,请按提示进行注册。谢谢。
银行汇款:
币种:人民币
户名:河北进德公益基金会
账号:131080080018010022131
开户行全称:石家庄交通银行胜利北街支行
开户行行号:301121000278